Water Week 2010: Promotion of Sanitation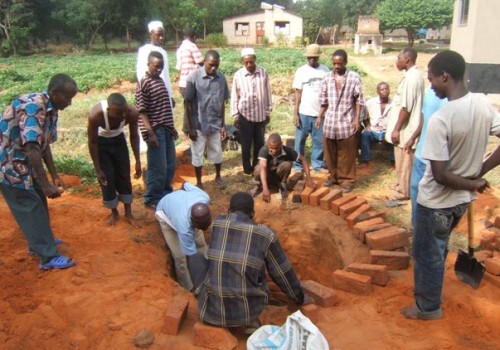 Sanitation training for local artisans as part of celebration of water week.
For 22 years, the National Water Day has been celebrated in Tanzania. It is preceded by the Water Week, one week of exhibitions of various water projects and other services existing in the country. The Water Week 2010, themed "Clean Water for a healthy world", was held at Mwendapole, Kibaha district (Coast Region).  
As part of the Water Week celebrations, the Ministry of Water and Irrigation commissioned EEPCO to organize training for artisans and the construction of demonstration latrines. Participants of the training included experienced local artisans and district health officials. 
The training included:
- Production and installation of SanPlat slabs in existing and new latrines
- Dry bond pit lining using trapezoidal blocks and burnt bricks
- Production and installation of hand-washing facilities
- Social marketing strategies
During the training period, a SanPlat latrine (one stance) and a pour flush latrine (two stances) were constructed at Kwa Mfipa Market and a Mwendapole ward office.
Time: 13th – 22nd March 2010
Location: Kibaha District, Coast Region, Tanzania
Project funding: Ministry of Water
More information: Download project fact sheet
---